PBP-14I 14 Slots ISA Passive Backplane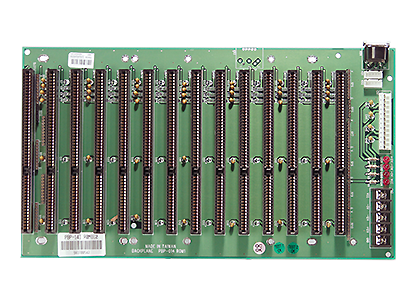 Overview

ISA backplane offers simple method for adding additional ISA card to your legacy system. There are several version of backplane available depends on the type of computer chassis you have. The most common backplanes are 8 slots passive backplane and 14 slots passive / active backplane. Please check with your chassis manufacture to ensure their chassis supports proper mounting for passive or active backplane boards.
What is the difference between Passive backplane and Active backplane?
The key difference between passive backplane and active backplane is the number of PCI or PCI express slots on the backplane. For most of the standard passive backplane, the maximum number of PCI slot is 4. These 4 PCI slots are controlled by the onboard PCI chipset on the SBC Card. If you need more than 4 slots of PCI bus, your backplane board needs to have a PCI bridging chipset to expand the number of PCI slot on the backplane. Any backplane board comes with bridging chipset is consider as active backplane board.
What type of power supply do you need to power ISA backplane ?
You will need to use AT style of power supply that offers P8 and P9 connector. In addition, the power supply needs to have its own on/off switch. ISA backplane depends on the power supply to turn itself on and off. If you cannot find an AT power supply, you can use a special conversion cable to turn 20 pin ATX power connector into P8 and P9 connector.
Can't find what you need ?
Besides offering industrial parts as replacement, we also offers custom build industrial system solution to meet your project requirement. If you are not sure about how to integrate a new industrial motherboard in to your existing system, we can help. We have been providing custom build industrial PC solution for over 20 years. We specialized in custom build industrial system. We can help you to select the best fit solution for your need. You can either call at (516) 997-5050 or e-mail at sales@rackmount.com for any type of questions.