SBC637 Pentium III / Celeron PICMG Single Board Computer
Phased Out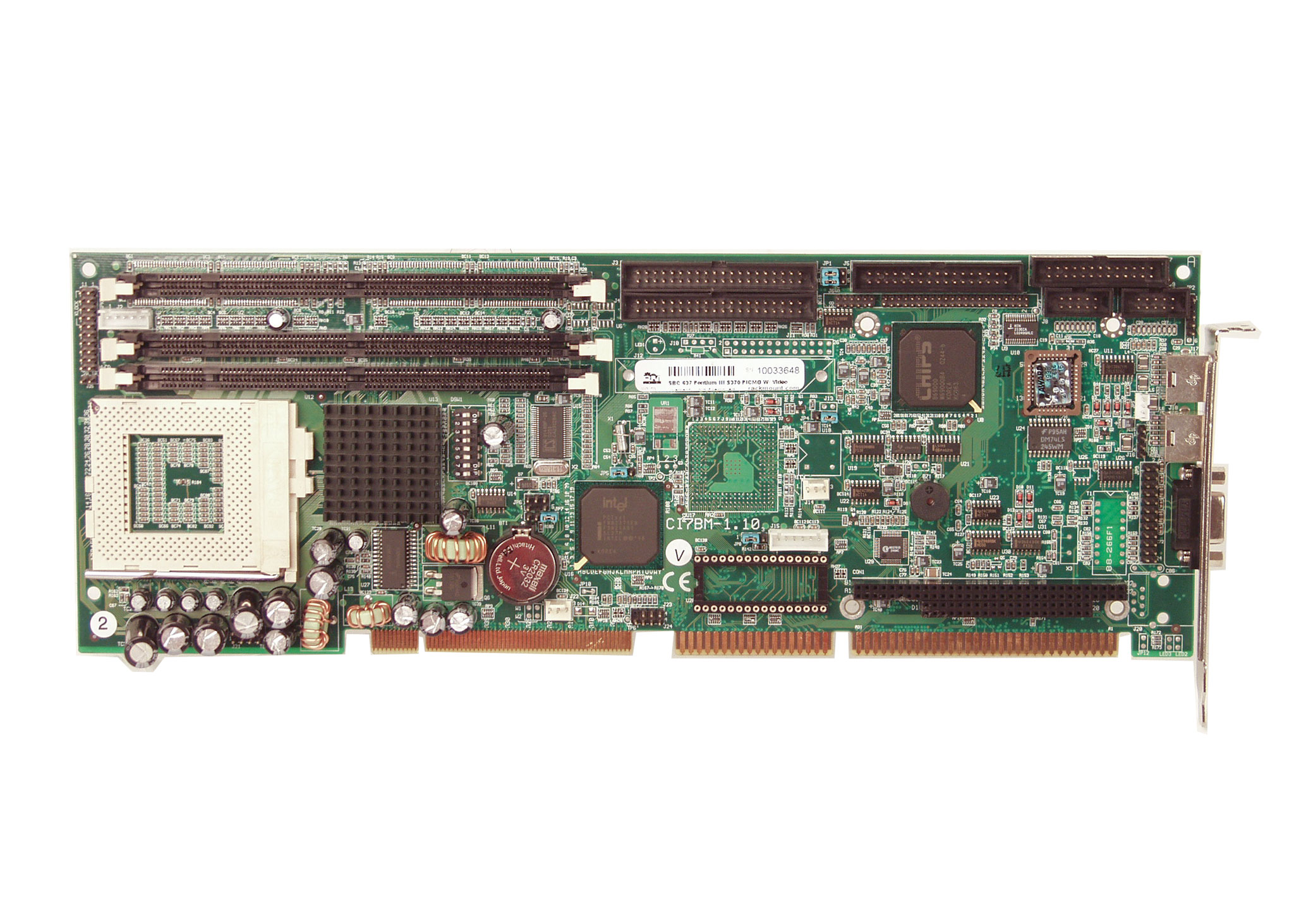 Overview
The SBC637 Pentium III Single board computer is an industrial motherboard designed as replacement unit for legacy application running in DOS 6.22,Windows 98, and Windows 2000 operating system environment. The SBC637 also offers legacy ISA Bus support in addition to standard PCI 32 bit Bus support. It provides ideal platform for extending your existing legacy system product life cycle.
The SBC637 Pentium III single board computer complies with industrial standard PICMG 1.0 design. It is compatible with any passive or active backplane that is PICMG 1.0 compliance. It offers full support for older technology such as PATA 40 Pin Hard Drive, Floppy Drive , RS232 serial ports. SBC637 can be reconfigure to meet your software and hardware need.
What is PICMG 1.0 slot?
PICMG 1.0 is PICMG specifications that define the industrial motherboard form factor and the interface connecting to the backplane that offers ISA and PCI expansion slots. There are two different versions of PICMG standard available on the market such as PICMG 1.0 and PICMG 1.3. PICMG 1.3 specification is very different from PICMG 1.0. You will not be able to use PICMG 1.0 single board computer with a backplane that support only PICMG 1.3 version. Only PICMG 1.0 comply backplane has the correct connector to support PICMG 1.0 single board computer.
Can't find what you need ?
Besides offering industrial parts as replacement, we also offers custom build industrial system solution to meet your project requirement. If you are not sure about how to integrate a new industrial motherboard in to your existing system, we can help. We have been providing custom build industrial PC solution for over 20 years. We specialized in custom build industrial system. We can help you to select the best fit solution for your need. You can either call at (516) 997-5050 or e-mail at sales@iaenclosures.com for any type of questions.
Advantages
Compatible with existing DOS 6.22 Applications
Supports legacy ISA and PCI slots addon card
Extending legacy application life cycle
Comply with PICMG 1.0 Standard
Application
Automation
Process Control
Testing Equipment
Legacy Software Support